Has Your Website Suffered From a Google Rankings Drop?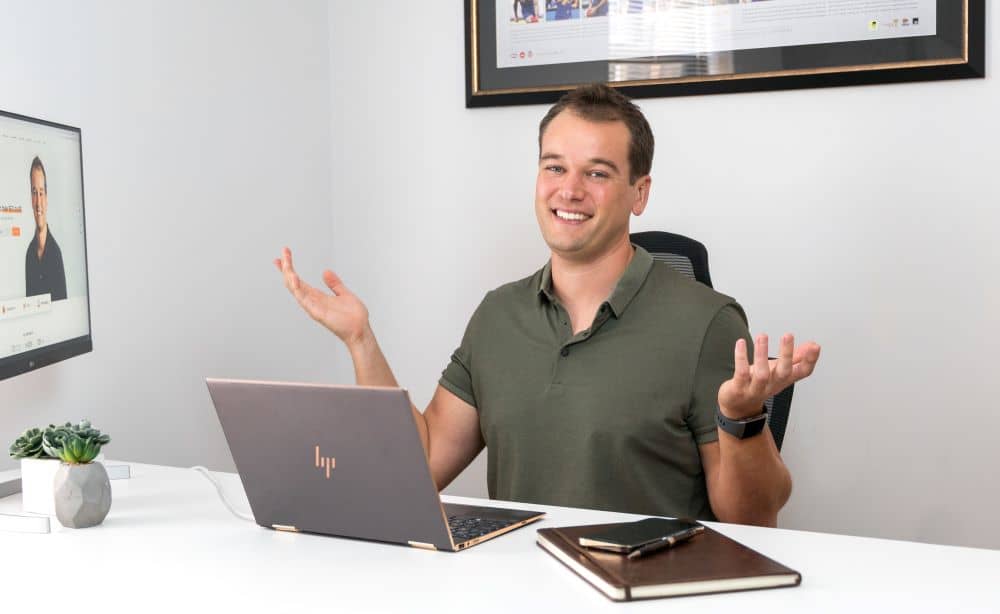 Smart Strategies to Save Your Standing on the SERPs
Operating a successful business in today's frantically paced world keeps you racing to stay at the top of your game. At the same time, staying ahead of your competitors is crucial. Somehow, just when you think you have everything under control and on the right track, you see a drop in your website's ranking in the SERPs.
Whilst this can be hugely frustrating, try and remain calm. Several factors can lead to a ranking drop. However, not panicking and ignoring the problem are two different things altogether. You must address the problem and find the cause.
Have your Google ranking dropped suddenly? In this post, you'll learn how to identify a drop in Google rankings, how to fix a manual penalty (if you've been hit with one), and how to safeguard your website from future changes to Google's algorithm.
Steps for Planning Ahead
This is a good time to remind you that forewarned is forearmed. So, regardless of your present situation, take the time to look at these strategies, and you can have a plan in place when you need it.
To get ahead of a rankings drop problem, set up tracking so you are aware of daily changes in your standings.
Doing this involves just a few steps:
Go to Neil Patel's Ubersuggest tool and sign up for an account
Add your first project, then enter your URL
Choose your location
Add keywords you're already ranking for, or those which you would like to rank for in the future
Set your tracking preference to daily and make sure mobile tracking is on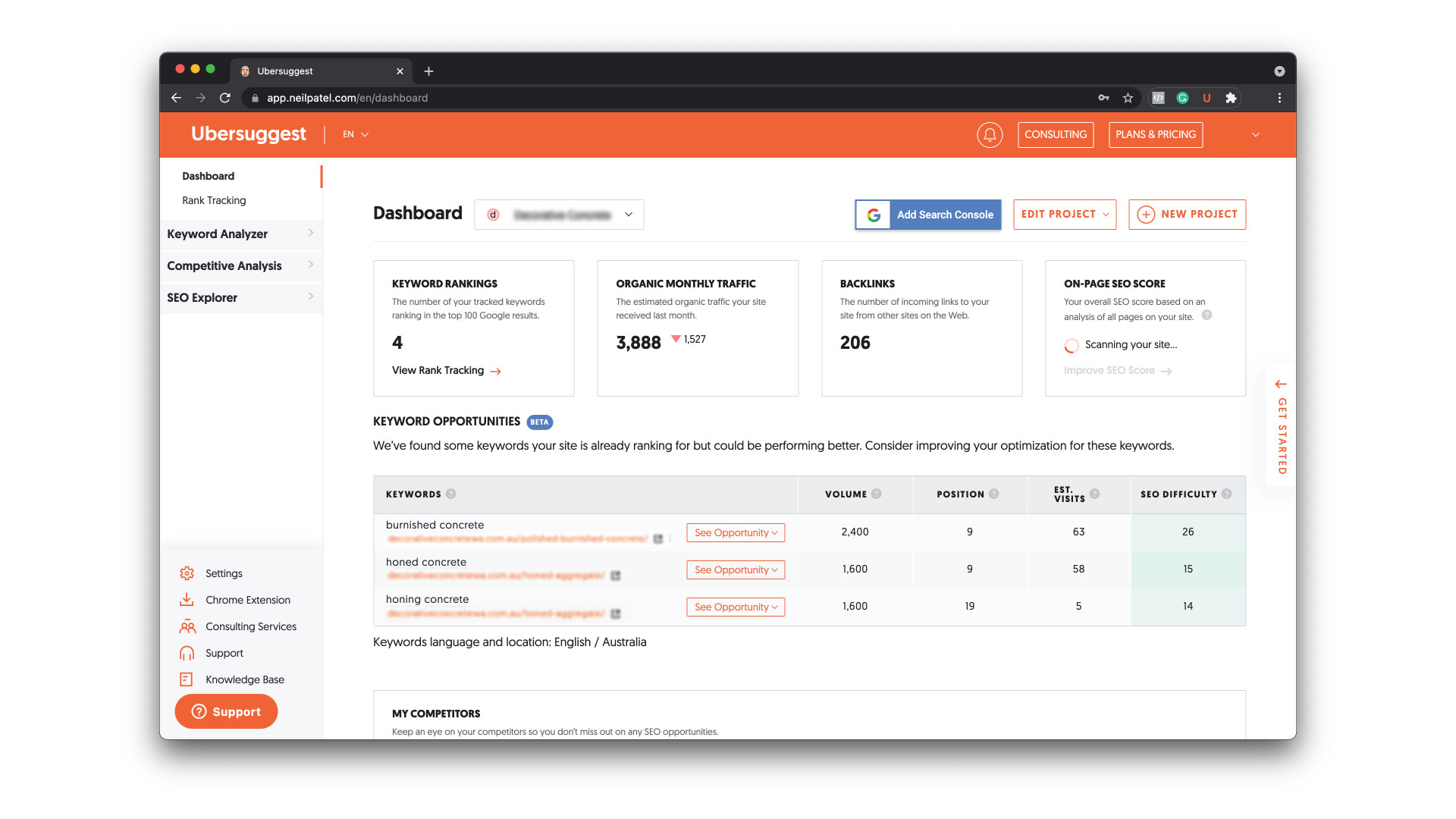 The tool will send you emails about changes in your Google rankings.
Why Must I Look for Daily Changes?
According to Google, it makes about 3,200 algorithm changes a year. So, each day the search engine giant makes roughly eight changes. Those are a lot of changes to monitor.
If you miss a few updates, it could spell disaster. Once your tracking system is in place, you will be better prepared to deal with drops in your standing on the search engine results pages.
What Should I Do if I See My Rankings Have Dropped?
It is easy to feel as if the sky is falling when you see your Google rankings tumble. Remember, rankings will drop off from time to time. It does not signal a disaster every time this happens.
If your rankings fall, a good place to begin an investigation is with the report of increases and decreases for your website. You will want to discover if you have a few fluctuations in your rankings, which is a typical occurrence, or more. If you have a collective ranking free fall, it is the sign of a penalty, and you have a more significant issue on your hands.
Could a Penalty Cause My Rankings to Drop?
If your website experienced a significant drop across the board, you might have been penalised by Google. Penalties from Google typically fall into one of two categories with different causes and responses. These are Manual Penalties and Algorithmic Penalties.
Manual Penalties
What is a Manual Penalty?
As the name implies, this is an offence not triggered by an algorithm abnormality. Teams of Google's employees investigate sites for non-compliance to Google's Webmaster's Guidelines. A site generally has been flagged by the algorithm for an offence, and then an investigation begins.
Remember, manual penalties can come with steep sanctions. For example, if your site commits a severe violation, Google's manual penalty may erase all organic occurrences of your website from its SERPs. Simply put, your site will not rank anywhere for any keyword on Google's results page.
If your website experiences a manual penalty, you will have no doubts about it. Google will send a notification. You can find these in your Search Console under the tab Security and Manual Actions.
What Should I Do if I Receive a Manual Google Penalty?
The tiny silver lining that comes with a manual penalty from Google is that the search engine will send you a notification that includes your offence, potential solutions, and the option to request a review of your site once you fix the problem.
The steps to take after you receive a manual penalty are:
Look over any recent changes, content, or new business affiliates that may impact your website
Set about responding to Google's suggestions and change the offending content on your website
Request a review of your website
What are the Top Six Typical Manual Penalties from Google?
Because Google manual penalties usually go to sites that are blatantly disregarding Google's guidelines, the majority of businesses (who run quality websites) will never see one. However, knowing what Google targets for these penalties can be helpful.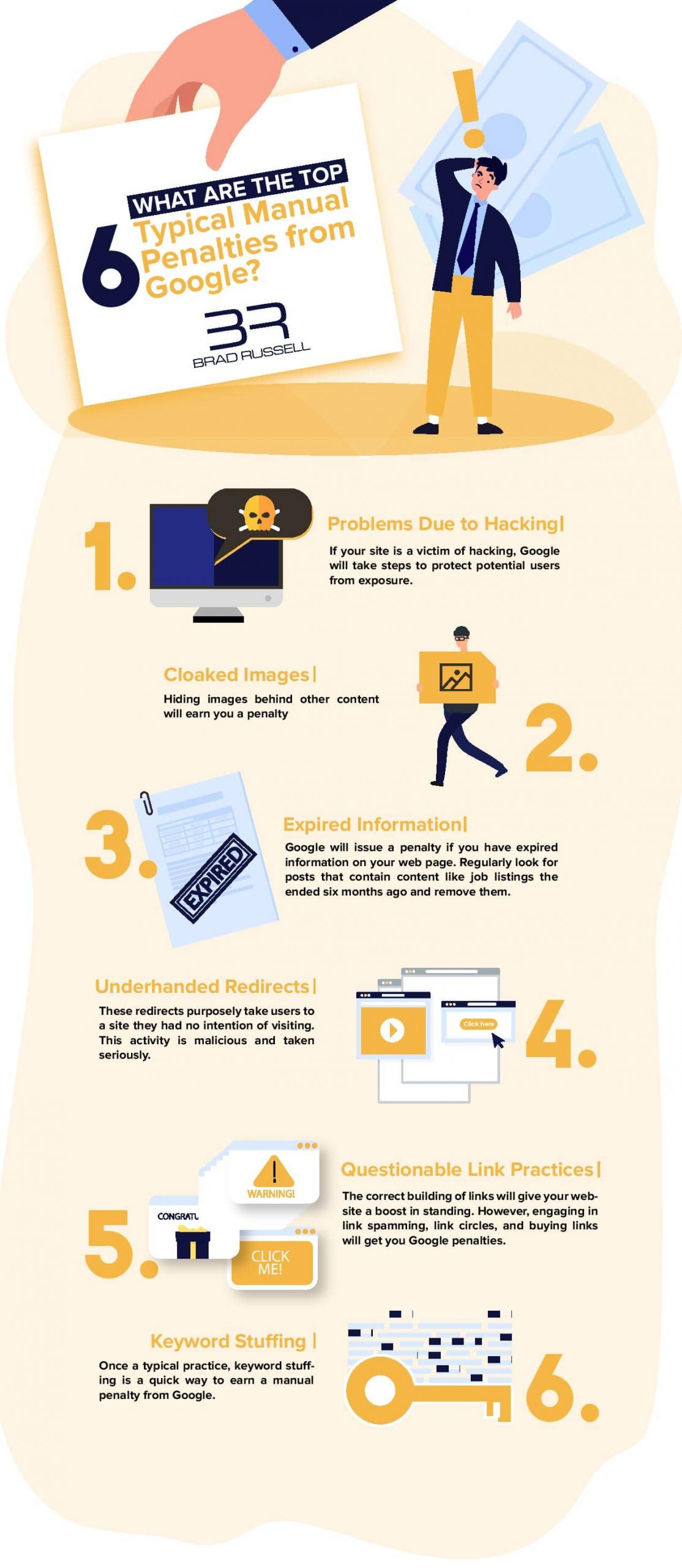 Problems Due to Hacking – If your site is a victim of hacking, Google will take steps to protect potential users from exposure.
Cloaked Images – Hiding images behind other content will earn you a penalty
Expired Information – The set-it and forget-it mentality are common in the digital marketplace. However, Google will issue a penalty if you have expired information on your web page. Regularly look for posts that contain content like job listings the ended six months ago and remove them.
Underhanded Redirects -These are not the simple 301 redirect errors. These redirects purposely take users to a site they had no intention of visiting. A word to the wise, this activity is malicious and taken seriously.
Questionable Link Practices – The correct building of links will give your website a boost in standing. However, engaging in link spamming, link circles, and buying links will get you Google penalties.
Keyword Stuffing – Once a typical practice, keyword stuffing is a quick way to earn a manual penalty from Google.
Recovery from a manual penalty is possible. Make sure you carefully address the issues Google mentions in your notification and then request a review. Some problems are easier to fix than others. If you are struggling, reach out to me and I'll be happy to assist.
Algorithm Change Penalties
What Are Algorithm Change Penalties?
Also known as automatic penalties, the algorithm penalties come from a change in Google's programming. These penalties require more investigating than manual penalties because no notifications accompany your rankings drop.
How Do I Recognise an Algorithm Change Penalty?
There are some indications that point to rankings drops from a Google algorithm update. These include:
Your website no longer ranks for your brand name
PageRank (PR) for your site slips to one or zero
If you previously had page one rankings, they have dropped several pages
Your Google listing is for a page on your site that is not your homepage
You find nothing when you run a search for your site
Your website is no longer a part of Google's cached search results
Why Are the Changes So Sudden?
Google's main goal is to provide the best possible experience for its users. This means they are constantly in the process of tweaking and revamping strategies to ensure the best websites get top placement on their search results pages.
As stated, Google tells us they run approximately 3,200 changes to their algorithms every year. These all have the potential to impact rankings, although some are more earthshaking than others.
Tip: To keep up with changes, check out Moz's list of Google's algorithm changes.
While this policy is great for searchers, it can prove to be extremely challenging for the businesses who live and die by their location on the SERPs.
You are likely familiar with the Penguin, Panda, and Medic Google updates. These changes caused widespread upheaval across the digital marketplace. Once SEO experts figured out the goals of each update, sites could reestablish themselves. The same is proving to be true for Google's recent Page Experience Algorithm Update.
What is the Focus of Google's Latest Algorithm Update?
With its 2021 Page Experience Algorithm Update, Google turned its focus on the quality of users' experiences on websites. It is worth noting that other crucial SEO factors such as backlinks, valuable content, and authority are still a part of the search engine's criteria for high Google rankings.
What Areas Does the Page Experience Update Address?
Google's update looks at Core Web Vitals. These are metrics that allow the search engine to determine if a site offers its users a good experience. These metrics are:

Loading Performance – This metric measures how long a website takes to load its largest piece of content. If you have ever spent time watching a spinning circle on a half-loaded page, then you know why page loading speed is a vital component of a positive user experience
Interactivity – The amount of time it takes for a web page to load its First Input Display (FID) is what this metric calculates. The FID is the website's first impression to the user
Visual Stability – As the name implies, Google wants to find out if a page is freezing, glitching, or having other visual issues that would negatively impact users' enjoyment
Four Additional Factors Google's Page Experience Update Monitors
Many websites already have these features running well. However, to avoid any potential issues with penalties, take a moment to check the following:
Is your site secure (HTTPS)?
Is your site mobile-friendly?
Is your site safe?
Does your site have any interstitials (e.g. popups) that slow browsing?
What Should I Do if My Rankings Fell Because of the Page Experience Update?
If your rankings plummeted after the newest update, all is not lost. However, addressing the problem is essential to regain your standings and your traffic and conversions.
Fortunately, many free tools can help you figure out why your website has tumbled on the SERPs. By conducting a thorough investigation of all factors that are a part of the Page Experience Update, you can discover what changes you need to improve your standing.
If you would like to learn more about how I can help you, please feel free to contact me for assistance.