Google's Page Experience Algorithm Update: Are You Prepared?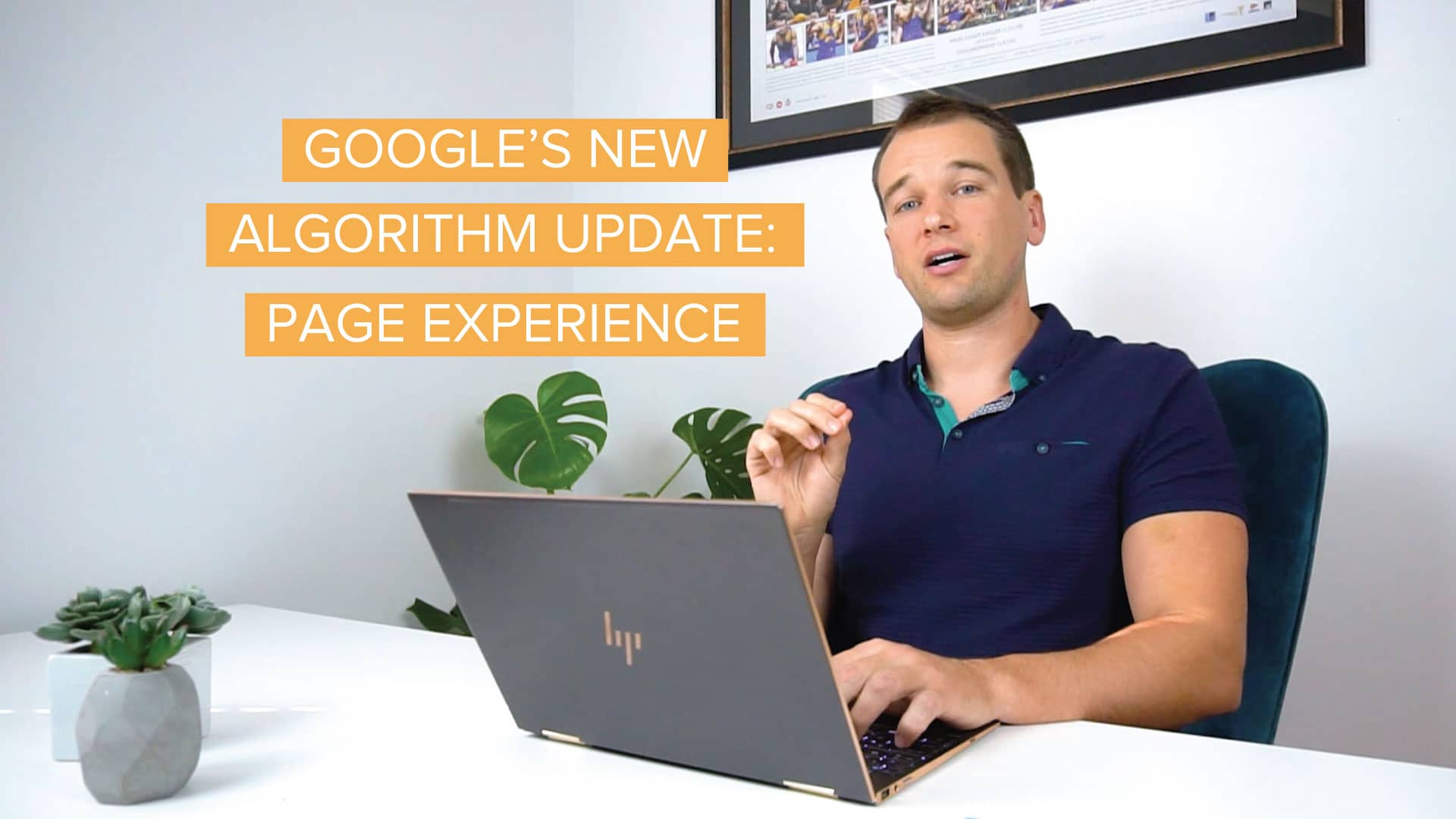 If you have experience in the world of online marketing, sales, or e-commerce, you likely remember the near-apocalyptic response to the Google Medic Update of 2018. The search engine behemoth unceremoniously flipped the script on how websites rank and sent site traffic for many businesses into a rapid tailspin.
Brace yourself, members of the digital marketplace. Google recently announced that it would roll out changes to the way it ranks websites. They've termed it The Page Experience Update.
The announcement comes with good news. The changes are still in the works and will not be live until 2021. Google also promised about six months of lead time before the new algorithm begins to impact the ranking of websites.
An old saying tells us that 'forewarned is forearmed.' Google's news of impending changes will make the transition smoother and certainly create less freefalling chaos among site rankings.
In this blog post, you'll learn how to prepare for the upcoming Page Experience Algorithm Update by improving various on-site experience factors for your customers.
What is Google's New Update?
Google's new algorithm is known as 'The Page Experience' Update.
As you may expect from the name, the update will look at factors that impact a searcher's use of a given webpage. These are known as the page experience signals. The signals consist of numerous metrics that will apprise Google of the experience users have when visiting your website.
Page Experience Signals
1. Core Web Vitals
A look at various aspects of a webpage that impact the user experiences. There are three primary factors examined.
Loading Performance – Google measures loading performance by monitoring the Largest Contentful Paint (LCP). When measuring LCP, Google is looking at how long a webpage takes to load its most prominent element. Essentially, this is measuring how site users perceive the loading speed. When visitors see a website's main page pop up almost immediately, they have a sense that they are on a reliable and useful site. The optimal LCP is 2.5 seconds or less.
Interactivity – Visitors to your site have little patience when it comes to delays to their activity. Google measures your site's ability to engage with a user by looking at your First Input Delay (FID). A website's FID is similar to a first impression. Do your visitors stare at a blank page hoping something will happen, or will they have an opportunity to use your site almost immediately? A good FID is 100 milliseconds or less.
Visual Stability – Visitors to your site demand visual content that has the correct format to maintain visual consistency. The Cumulative Layout Shift (CLS). In order to reliably maintain stability, your webpage should have a CLS of 0.1.
To give you an example, this is what Google is trying to avoid:
Measuring these criteria is key to ensuring your webpage success, especially once the proposed algorithm changes are in place. Consider working with one or more of these tools to help you keep track of these critical areas.
2. Safe Browsing
Visitors to your website depend on you to keep them safe while exploring what your page has to offer. While there are numerous ways to breach a customer's trust, these are the most common issues.
Malware – Unwanted software designed to harm or exploit a site visitor.
Social Engineering – Programs created to trick a customer into doing something that can harm their computer or impact their security. Downloading programs and giving away passwords are two typical social engineering acts
Hacked Content – While Google works to avoid hacking consistently, hacked content can appear on a site.
A security issues report can search for these sorts of snags and help correct the problems.
3. Optimised for Mobile Use
It is no secret that mobile searches continue to grow as the top way people hunt for what they need. Since overtaking personal computer searches in 2019, mobile devices account for approximately 66% of searches.
It is easy to see how critical an excellent mobile search experience is for your SEO. Google suggests running a test to find out if your site is mobile friendly.
4. HTTPS
Google prefers HTTPS sites and has for some time. The idea of a secure site is more important than ever to your clients. It is essential for all concerned parties that HTTPS serves your webpage. It is worth your time to find out your site's status. If you learn that you do not have an HTTPS site, Google can help you learn how to secure your website.
5. Avoid Interstitials
Initially, interstitials were to be similar to ads on broadcast television. And while they do pop up between web pages, they are the cause of much angst to your customers. The interruptionsmake seamless use of a webpage difficult. In the ultra-competitive online marketplace, causing delays and annoying your clients are terrible ideas.
How Will These Changes Help Small Businesses?
Google understands that for some items, consumers automatically think of a specific brand for a search. For example, the brand name Louis Vuitton is virtually synonymous with high-end purses and accessories, just as Nike is for athletic shoes. However, the majority of small and medium-sized businesses in the virtual marketplace will never achieve that degree of brand recognition.
The Page Experience Update can help companies achieve growth within their own niche. Google accomplishes this by elevating the ranking of sites with great user experiences. The webpages that Google users love the most will be the ones at the top of the search engine results page.
You do not have to be Louis Vuitton in order to find success in a handbag and accessory niche. You do, however, need a website with killer content and first-rate user experience.
What is the Best Way to Optimise My Website?
In addition to the page experience signals and the Core Web Vitals, there are other critical areas that you should be aware of, so your site visitors' have positive encounters.
Check out my step-by-step tutorial to improve the page experience on your website:
1. Eliminate 400 Errors and Improve Speed
In the virtual marketplace, lack of speed or the always frustrating 400 errors will send potential customers running to your competitors.
You can check the overall health of your site and the speed with a website analysis. The steps are straightforward.
Enter your URL in Neil Patel's Website Analyser.
Look in your site's health check report to find if you have broken pages that need your attention.
Pay attention to the information on site speed. You need to have a loading speed of fewer than three seconds for your mobile and desktop versions. In a perfect world, this speed would be closer to one second.
2. Check Out the User Experience on Competitors' Web Pages
Believing you have the best Internet user experience in your niche and knowing you have the best user experience are worlds apart. It is necessary to invest the time in gauging how your website stacks up against the website of your largest competitor.
By looking at the top traffic pages with the analyser, you get a thorough snapshot of what works well and what is a genius strategy. Spend the necessary time looking at the competition's top 10-20 pages, and ask yourself the following questions:
How does the content on their site compare to your site's content?
What are your competitors achieving?
What are the contrasts between your site and your top competitor's website?
Additionally, check out the estimated visits tab and click view all. Here you can get information about the key words every page ranks for, and you can find fresh ideas for your webpage. Pay attention to how the site meets visitors' needs. Then apply the information to your own website.
3. Analyse You Website for Usability and Design Problems
If you have ever struggled with clicking a button on a webpage and getting the action designed for a button next to it, then you understand design flaws and usability issues. These are problems that consumers will not patiently workaround.
An excellent way to find out what sort of usability glitches are hiding in your webpages is to run a Crazy Egg test on your website. After taking snapshots of three or more popular URLs, the program will create heatmaps showing how visitors use pages and where they click. A heatmap will show you every click and scroll, providing you with crystal clear knowledge of how your pages perform in the real world.
The information from a heatmap allows you to adjust specific points on your website. For example, you may have an icon that gets numerous clicks, but it does nothing. You should consider changing the icon to take your customers to a related page or relevant content.
4. Install the Ubersuggest Chrome Extention
Adding this extension will give you valuable information about other webpages in your niche. The search results completed with Ubersuggest will include two key facts.
A Website's Domain Score – The webpage that has the highest number also has the most authority
Links – Generally, a website with a high number of links ranks higher than sites with fewer links
Be sure to pay attention to high ranking sites with lower domain scores and fewer links. The fact that these sites rank well on SERPs without two typical factors that bump sites to the top of the results page means the site is doing a great job with other factors, such as user experience.
You owe it to yourself to study these sites and see the things they are doing differently and better than others. Take what you can and apply it to your website and boost your SEO.
What is Google Doing to Help Businesses Adapt?
Google understands that the updated algorithm will require some effort for many site owners. The company is attempting to make the transition easier. They offered the initial heads up about the new algorithm and the promise of six months of lead time before the changes are live.
Additionally, the search engine giant is updating some useful developer tools. Lighthouse and PageSpeed Insights will work with Core Web Vitals insights and suggestions. Website owners can get a report to help them see ways to improve their webpage from Google Search Console.
Are You Ready for This Update in 2021?
Remember, the page experience is vital for search engine rankings. If it were not, Google would not focus an update around the concept.
However, content still matters. Regardless of how amazing your customer's page experiences are, Google will not move your site to the top if your information is thin or not helpful. The Google page experience update will work with the company's current ideals, not replace them.
Thinking about the necessary changes as you plan for the upcoming algorithm can feel overwhelming. Creating the time to manage everything necessary for a top spot on the SERP while running your company can seem impossible. Consider hiring an SEO expert with the know-how and experience to get you to the top of Google's rankings.