Ten SEO Image Optimisation Tactics You NEED to be Using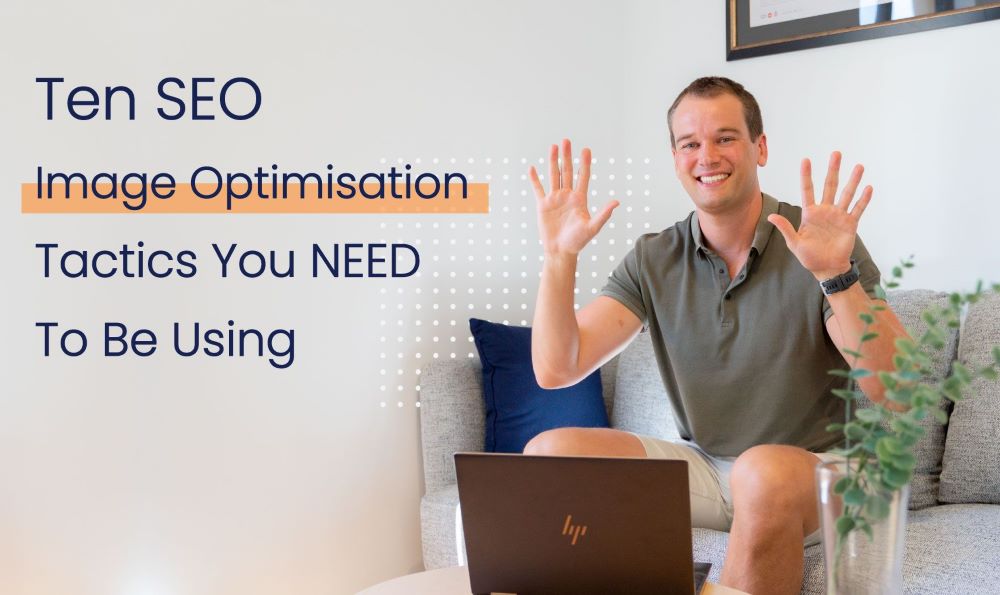 Images are a critical piece of your website and a significant factor in your ability to gain visitors and make conversions. In a world filled with text, images engage our brains and make it easier to remember content. Additionally, charts and graphs are preferred methods for sharing data because your reader can get pertinent information at a glance.
Serving up what you want to say is much easier if you have relevant images. Remember, blog posts with images receive over 94 per cent more views than similar blogs with only text.
Before you start hitting the stock photo pages, you will get the biggest impact if your images are optimised for SEO. This means that you are posting images that are not only high-quality but are formatted correctly, have appropriate labelling, and are the optimal size and resolution for your users to engage.
Check out these ten tips that the pros use to ensure they get the most out of their images.
1. Use Unique Images
Even the best-formatted stock images will never give you the same results you will get with original photos. And this is why; the images you are using are also on the pages of hundreds of other websites. Some may be competitors; others may be in a different niche of the same industry. No matter where the images are, the mere fact that they are scattered all over the internet makes you look ordinary and unimaginative.
People love a good story. Use images to tell one. When you create your photos, you bring your audience closer to you, your employees, and your product. Are you a second or third-generation craftsman working in a family business founded decades ago? If so, take generational photos. If family members are not available for photoshoots, get older photos and professionally enhance them. Make people who visit your website care about great-grandpa cutting the wood for his first furniture order by hand.
Never underestimate the value of human connection. You want to reach beyond the ordinary and make an impact on customers that the other companies are either unwilling or unable to create.
2. Choose the Best Format for Your Images
After compiling excellent images that are relevant to your business and website, you will need to choose the formatting that will work best for your pictures.
While there are numerous choices, the two most common image formats that you can choose from are PNG and JPEG.
PNG – The Portable Network Graphics file supports lossless compression. This means the images are high quality and scalable. While the PNG gives a clean and sharp image, the file size is large.
JPEG – The Joint Photographic Experts Group is usually the default for saving images because nearly every computer can open the file. JPEG supports lossy compression. When you resize these images, you will have poorer quality than if the file was a PNG. This becomes less prohibitive because as you save a JPEG image, you can adjust the level of image quality.
WebP is an additional image format that is commonly used. Presently, it is the only format that Firefox and Chrome support. With WebP, you can choose between lossy or lossless compression.
3. Compress You Images
A critically important part of optimising images for SEO is ensuring that the photos posted on your website are compressed. Large file sizes will slow your page loading speed and annoy potential customers visiting your website.
Additionally, pages that load slowly can harm your ranking on results pages. This is because loading speed is a key metric in Google's Page Experience algorithm update.
To avoid causing yourself problems, consider using an online tool to compress your images. There are many available. However, the very best (and the one I use) is https://compressor.io/ as it is versatile and provides marvellous results.

4. Never Infringe on a Copyright
This bit of advice should be understood, but it is worth mentioning because the consequences can be expensive and embarrassing for your business. If one of the many stock photo providers own the rights to an image you use, and you do not have a license to use it, you could have a lawsuit on your hands. Although, the first course of action would be a takedown notice.
Google Images allows you to set parameters to filter copywritten images from searches. However, creating your images is an excellent way to steer clear of the problem altogether.
5. Pay Attention to Image File Structure
Google shared valuable information with everyone hoping to improve their SEO. The search engine giant uses the file path and file name to rank websites. Based on this news, you should structure image files into subcategories. For example, if you sell garden supplies, do not do an image dump into a single media folder. Instead, divide into categories like /fertilisers/ or /pruning tools/ to gain favour with Google.
6. Use Structured Data
When you use schema markup (Google's preferred structured data), you make it possible for search engines to understand users' meaning and provide precise query results. Adding this to your images allows Google to use your image as a rich result. In general. Schema markup is an underutilised method, so you should use it with your images to give yourself a more significant competitive advantage.

7. Optimise for Mobile-Friendly Images
You know the statistics about mobile use and have heard about Google's Mobile-First initiative. So, you already know why you should optimise images for mobile devices.
According to Google, you need to make sure your images are responsive. In essence, this means that your photos will adjust to the size of the screen the viewer is using.
This is possible by using srcset and sizes attributes. These give the browser more identical image options to display based on screen size.
8. Customise Your Image File Names
Being descriptive, creative, and naturally incorporating keywords are vital for good SEO. These traits are also necessary when you customise your image file names.
Adding detailed image file names is a valuable way to help Google understand your image and its context. It is the difference between labelling a photo "dog" or "white Australian Labradoodle." Your customers will be pleased with seamlessly perfect results; no sorting is required.
The process of changing your images from default to detailed is time-consuming. However, it is worth your time.
9. Use detailed Alt Text
Alt Text describes images and is valuable when images cannot be loaded or offer web crawlers additional information about the web page. Additionally, alt text is necessary for web accessibility for visually impaired individuals using screen readers.
Google remarked that alt text could be instrumental in driving higher-quality traffic to your website. Additionally, quality alt text makes Google more precise with the information for search queries.
Just as with image file names, visitors will be directed to the alt text that most closely matches their search terms. You can also use alt text as an anchor for internal linking.

10. Define Your Dimensions
Setting your dimensions for images (and videos) is essential. By adding the height and width attributes, you tell the browser how much space an image requires. This ensures a smooth and quick loading that will please your visitors.
This will also please Google because it will help prevent Cumulative Layout Shift (CLS) issues. CLS is a crucial part of the Core Web Vitals, which are at the heart of Google's Page Experience Algorithm.
If you feel like there is something new that you should adopt to enhance your website's SEO every time you turn around, you are correct. As mentioned in numerous posts and articles, SEO is consistently evolving. There is no one and done when it comes to SEO, and many business people find the need to adapt so often overwhelming.
You already have your hands full trying to run your business, and you have no spare time to adjust your SEO. Consider working with an expert with over a dozen years of experience and hundreds of satisfied clients. Contact me, Brad K Russell, to learn more about how I can help your business grow by leaps and bounds while freeing your time for taking care of business.