Digital Hitmen is Here!
Together with my business partner, Levi, we've launched Digital Hitmen. Digital Hitmen is a full scale digital marketing agency based in Perth, Western Australia. For our range of services and packages, go to https://www.digitalhitmen.com.au/seo/.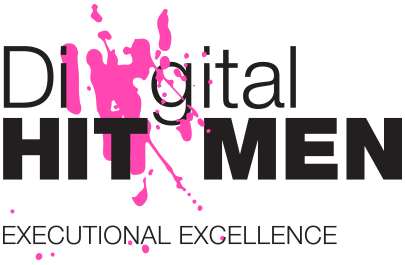 ---
Why Isn't My Website Receiving More Traffic?
This is a common question I receive from business owners across Australia. They have set up a website for their business, but the traffic isn't flowing. The answer to that question relates to SEO (search engine optimisation). You must implement effective SEO strategies to receive more traffic from Google, Bing and other search engines. That's where I come in.
I've ranked #1 for super competitive industries including (but not limited to):
Network marketing
Isagenix
Podiatry
Kitchenware
SEO/online marketing
Go on, Google the phrase "network marketing". Which site is ranked only behind Wikipedia?
Try "podiatrist Perth" and you'll see a client of mine, Perth Foot Centre.
What about "Isagenix" – an extremely competitive term with 74,000 searches a month in Australia. I've personally earned hundreds of thousands of dollars from this keyword alone.
I can help your website make it to the top of page 1 on Google. I provide detailed analysis of your industry, your competitors, what keywords (phrases) customers are searching for in Google and what keywords you should be targeting. Having been in the industry for 10+ years, I am a digital marketing & SEO expert. Although I'm a Perth SEO expert, I offer services for people all around the world. A good portion of my clients come from Sydney, Melbourne and Brisbane, and even as far reaching as the U.S.A.
Let Me Grow Your Business
Interested in my services? Call me now and I'll provide a no strings attached quote.

Alternatively, contact me using the form below and I'll get back to you in 12-24 hours.
References from Happy SEO Customers
Since beginning work on our site, we've noticed a huge surge in the number of bookings. A previous SEO firm based in Perth were working on one particular keyword for 12 months and couldn't get it on page 1. Brad did this in the first 2 weeks! He not only increased our rankings, but also made it easier for customers to book, find out more information and get in contact with us. We're extremely happy with the services he has provided and happily recommend him to others!
Benson Holland, Manager of Forest Rise Chalets & Lodge
Brad helped me build my website from scratch. Without him, I wouldn't know where to start but he was able to guide me through the entire process and keep me up to date with what was happening. Since launching I have received a lot of calls and emails through the site and now my rankings are #1 for most searches in my industry (which is super competitive). Thanks Brad!
Mina Azarian, Owner of Perth Foot Centre
What Makes Me Perth's/Australia's #1 SEO Expert?
Kitchen Warehouse, one of Australia's top 10 pureplay e-commerce companies, was once a small business known as Kitchenware Direct. In the beginning stages, I worked at Kitchenware Direct as an in-house SEO consultant. I was responsible for large-scale SEO projects, landing page optimisation, link building, and implementation of new e-commerce features. My SEO skills helped Kitchenware Direct grow into one of the largest e-commerce companies in Australia.
After realising my potential, I decided to do the same thing for myself. If I could help another business make it big, I reasoned I could create my very own profitable company. And I did. I launched several network marketing businesses, utilising my talent in SEO to generate a high income within a short space of time. If you search "Isagenix" on Google.com.au, you'll see that my website www.isatonic.com.au is ranked second, right after the company's international website Isagenix.com (and before Wikipedia, Facebook, Twitter etc). This term is extremely difficult to rank for, but very profitable. I earn approximately $200,000 each year from this keyword alone.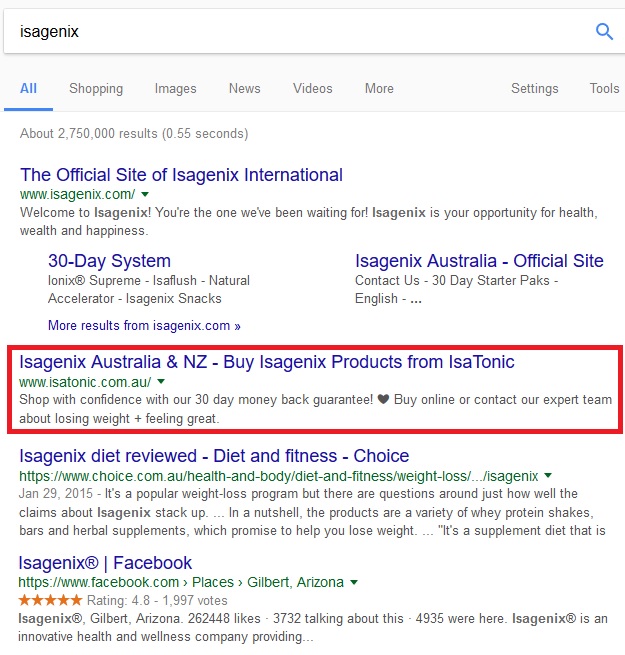 Can I replicate the same results for you too? Of course I can! I can work to achieve similar results for your website. I don't share my successes to brag, but to prove that I'm capable of delivering the results you envision. Too many SEO consultants and agencies make huge claims without having the experience, results, or evidence to back it up.
Reasons to Work with Me
You get to work directly with me. If you hire an agency, an intern or a new employee may be assigned to work on your website's SEO. You want an experienced search engine optimiser handling your website for the fastest, best results.
I only have a maximum of 8 clients at any one time. This ensures I have the necessary time to spend on your campaign.
No locked-in contracts. You're free to cease my services at any time.
I have over 10 years of experience working in SEO Perth (and Australia-wide).
I have a team of designers that can build a website from scratch. Here's an example of a recent client of mine: Mr Keto.
I helped Kitchen Warehouse become one of the top e-commerce companies in Australia.
You'll receive monthly reports, so you can monitor the progress of your SEO campaign.
1-on-1 consulting to improve your website in ways you agree with. You will also learn easy SEO techniques you can implement on your own.
Great value for your money. Compare my prices to others in the Perth SEO market and I'll be cheaper than most agencies (and with better results).
No middle man.
I select relevant, high traffic keywords for your website instead of low traffic long-tail keywords. These keywords will deliver high numbers of targeted visitors to your website.
Most clients of mine have seen a 2-5x increase in their web traffic after my SEO services.

Benefits of Well-Managed SEO
Increasing traffic. Not only will your traffic increase under well-managed SEO, it will continue to grow. The more content you add to your site while implementing SEO best practices, the stronger it becomes in the search engines. You will have more opportunities for driving organic traffic to your website, and with increased traffic comes more sales. 80% of searchers don't look beyond the first page of results, so you're missing out on a lot of traffic when you don't engage in proper search engine optimisation.
Higher, sustained rankings (than your competitors). Higher rankings in search engines are occasionally hard to sustain. The rules of the game sometimes changes, which is referred to as an algorithm update. When a search engine updates its search algorithm, the techniques that once worked to rank on the first page don't necessarily work anymore. You've probably heard horror stories of other website owners losing half or all of their search engine traffic after a Google update. This is why it's important to stay updated with the latest SEO news and techniques. As a professional SEO Perth Consultant, I keep up with the changes in SEO, so that my clients don't have to. That's why I am still on top of page 1 for competitive search terms, 10 years after I began in the industry.
Greater visibility. This means that more people see your brand. Visibility can help with improving your business's authority since more people will know its name and what it can offer. Coca-Cola has enormous visibility. Even if you don't drink coke, you know their name. Assuming you've never had coke before, you might eventually try it to see why so many people love it. Similarly, an Internet user might not click on your link the first time they see it in a search engine, but after so many times, they may click to see what your business has to offer.
First page rankings become easier. After so long of religiously working on your SEO, ranking on the first page of Google becomes easier because your site is gaining authority in the search engines. Authority comes through the number of links pointing back to your website, the amount of content (pages, videos, images etc) your site has, and other authority sites linking to yours. Once first page rankings become easier for you, the results continue to snowball. That's how I rank well for super competitive Google searches such as SEO Perth Expert.
What is Required for Good SEO?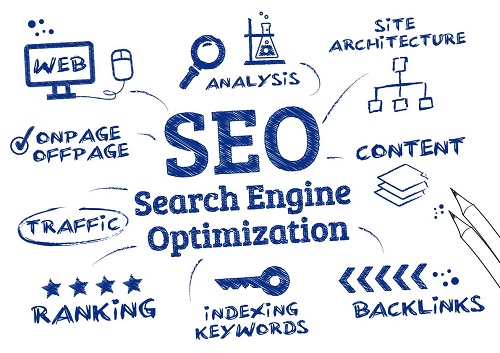 1. Keyword Analysis
Think about the last search term you entered into the search engine you use. That exact word or phrase is called a keyword in the SEO world. Maybe you searched "SEO Perth expert" or "weather". Both of those are examples of keywords (whether it's a single word, or a phrase). Whether or not they are good keywords to try ranking for is another story. And this is where keyword analysis comes into play. Before writing blog posts or landing pages for your website, you should conduct keyword research and analysis to find a good search term to use in the content.
"Weather" and other single words are usually bad terms to try ranking for because they're too broad. There are going to be hundreds of thousands, maybe even millions, of webpages that have that word in them. And only 8-10 webpages, excluding paid ads, make it on the first page of Google. Moreover, someone who is searching "weather" most likely just wants to know the weather forecast where they live. You're probably not going to rank for that term due to high competition, vagueness, and user intent.
Keyword research and analysis takes a while to learn. Many business owners don't have the time to spare on mastering this subject. It's easier to pay a professional like me who has over 10 years of SEO experience to handle your site's keyword research and analysis. You will reap the benefits of SEO faster without having to dedicate much of your time to it.
I come up with a list of anywhere between 30 to 2000 keywords per website. Here's a snippet of some of the 100s of keywords I try to rank for in Isagenix (and the current rankings):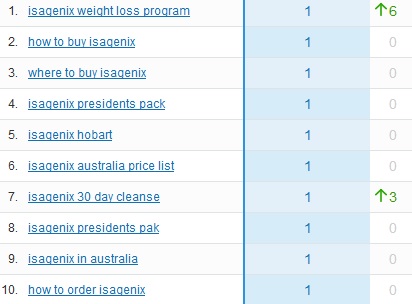 2. On-Page Optimisation
There are certain elements you need to add to a webpage and website in order to optimise it for search engines. This is referred to as on-page optimisation. Any SEO technique you implement on your website counts as on-page search engine optimisation. When you hire me as a Perth SEO consultant, I'll take care of on-page optimisation to give your website a better shot at ranking on the first page in the search engines.
On-Page SEO Factors That Matter
Schema Markups – Although they are one of the most powerful SEO techniques, schema markups are underutilised by website owners. A schema markup is code on your website that enables search engines to supply additional important information about the webpage in its search results. For example, some businesses in the food niche supply the recipe's rating in stars, state how many calories are in the recipe, and include how long it takes to prepare. Other listings in Google from sites that didn't use a schema markup will only have a meta description. Here's an example of markup used to show the price and reviews of an Isagenix pack. This dramatically increases the amount of traffic to this page.
Meta Description – The meta description is the snippet of text that shows up in search engines for each search result. Search engines automatically pull from the page what they determine is most relevant based on the user's search phrase. However, it is better for you to manually fill out your meta description. You will have a better chance at enticing people to click on your link in Google search results. It's like advertising space, your chance to show a user why they should read your page and not someone else's. A good meta description succinctly describes what the page is about within 140 characters.
Header Tags – These tags are the HTML that indicates to the search engines what the headings and subheadings are in the text. This feature is useful for readers too because it increases the size of the font making it easier to scan the page and remember the main points of the content. Header tags range from H1 to H6 in order of importance. H1 is the largest and should always be your title (it is crucial for SEO). H2 and H3 tags are used for the subheadings in your content.
Alt Attributes – Alt attributes are text that is pulled up for use when the item it is associated with cannot be seen. For example, alt attributes help blind people understand what an image on the page is. Without the alt attributes, a blind person has no way of knowing what the picture is of. Many website owners forget to consider that people with hearing or vision impairments may be on their site. Those with visual or auditory impairments use special software to make better sense of their web navigation. But this software relies on the coding on each website. Search engines also use alt attributes to gather more information about the page and the image itself. Filling out your alt attributes is known to improve SEO.
Fast Page Load Speed – Page load speed is another important ranking factor. Search engines don't want to direct users to slowly loading websites. Thus, faster loading sites are often given an edge in the SERPs. As an SEO Perth consultant, I'll be able to help you work out the kinks in your site's load speed to ensure it loads as fast as possible. Pages that run fast not only rank better but convert more as well.
Primary Keyword – Each article you post on your website should be written with a primary keyword in mind. Keywords are no longer given as much importance as they were in the early days of SEO, but they remain a ranking factor. The keyword needs to appear multiple times throughout the page, as I have done on this page with SEO Perth to rank well for that term. Google has started making more use of LSI keywords, decreasing how much weight is given to the primary keyword. LSI keywords are terms that are similar to the original search. Basically, what this means is you'll want to use related keywords naturally throughout your content too.
Social – Social signals to and from a website are important. For example, an open graph allows integration between Facebook and your website. When a reader likes or shares your webpage on their Facebook account, correct utilisation of the open graph feature will make it look more attractive when posted. People are more likely to click through if the thumbnail and snippet of text are engaging. Open graph improves the performance of links on social media, which results in more traffic to your website. Other social media sites recognise open graph tags too. Google+ and LinkedIn are two examples. Twitter has its own version of open graph tags called "Twitter cards". After enabling Twitter cards for your website, every time someone tweets a page from your site, a title, description, and image will usually be pulled into their tweet in a "card". You've most likely seen Twitter cards on your timeline before.
3. Link Building
High quality backlinks are one of the most important ranking factors in search engines. They are more difficult to implement than things like using header tags and primary keywords because they rely on someone else linking to your website. And not just anyone else, but someone with a high authority site. This is what Google means by high quality backlinks. I utilise several link building strategies that will help you boost your SEO (I only obtain the BEST backlinks possible). And none of these strategies are black hat. If you're unfamiliar with the term "black hat", scroll farther down for an explanation.
4. Local SEO
Businesses with a physical location and others who target customers from a specific city or town need to use local SEO strategies. Google offers certain features that are geared at local businesses, such as the local 3-pack. The local 3-pack is the card you sometimes see above the listings in Google that features three relevant businesses to your search. This feature is utilised for keywords relating to local businesses only, such as "pizza", "dry cleaners Perth", and "doctor".
I have experience implementing local SEO techniques that will improve your local SEO rankings and get your map listed in the top 3 positions. Here's an example of a local business I have helped: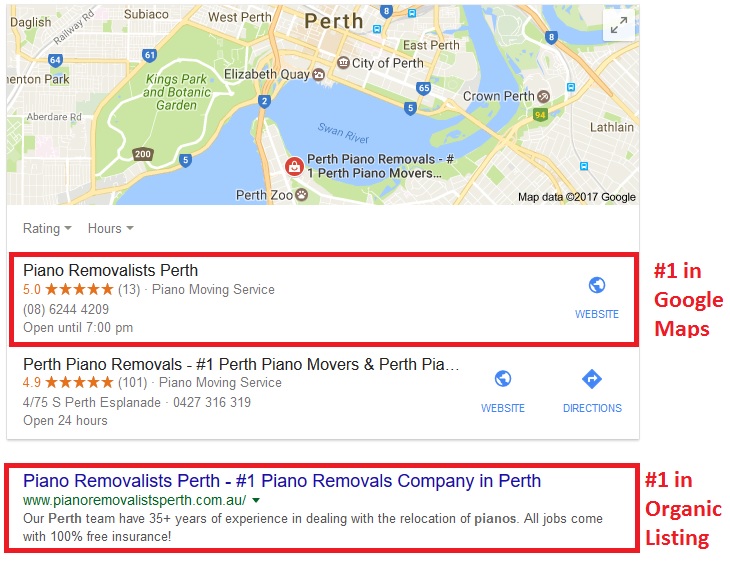 Some other examples of local businesses that I have helped include Quedos.com.au, Perth Roofing & Gutters, Window Tinting Perth Now and Limo Hire Melbourne Now.
Why You Need to Avoid Black Hat Techniques for the Safety of Your Website
The most important thing to be aware of when searching for the right SEO consultant is black hat SEO. Websites that implement black hat techniques are eventually caught by Google and punished. Black hat SEO is search engine optimisation tactics that are solely geared at obtaining better rankings (no thought is given to user experience). Usually, these tactics also break the search engine's rules.
What Are Some Examples of Black Hat SEO?
Invisible text – A list of keywords in white font on a white background to help attain rankings without being noticeable to readers.
Page swapping – Changing the webpage entirely after it has been ranked high.
Unrelated keywords – Adding unrelated keywords to the content, whether at the end of the article or sprinkled within.
Doorway pages – A page designed to rank high in the search engines that transfers readers to a different, unrelated page.
Keyword stuffing – Overusing a keyword within your content. This used to be a huge problem in Google, but an algorithm update mostly solved the problem. Very few people can get away with keyword stuffing due to the algorithm's ability to detect it.
You must be careful to hire a reputable Australian SEO consultant who won't use black hat techniques on your website, or you risk having your website banned or penalised in Google or Bing. I only use white hat SEO techniques to ensure your website stays ranked in the search engines for years to come.
Contact Me
Want to attract more customers to your website? Call me now and we can discuss a package that's suitable for your business.

Alternatively, contact me using the form below and I'll get back to you in 12-24 hours.
Latest SEO Posts
Save
Save
Save
Save
Save
Save
Save
Save
Save
Save
Save
Save
Save
Save
Save
Save
Save
Save
Save
Save
Save
Save
Save
Save
Save
Save
Save
Save
Save
Save
Save
SEO Consultant Perth,