Network Marketing (Multi Level Marketing/MLM): Australia's Fastest-Growing Industry
Network marketing (also commonly referred to as multi-level marketing or MLM for short) provides the best opportunity to start your own home-based business and earn an amazing amount of money sharing a product and opportunity with others. After five years of working in the same 9-to-5 job, I joined my first multi-level marketing company – Isagenix. Within five weeks, I quit my job to focus on developing my network marketing business. Three months later, I had doubled my previous salary. Not many companies can offer that!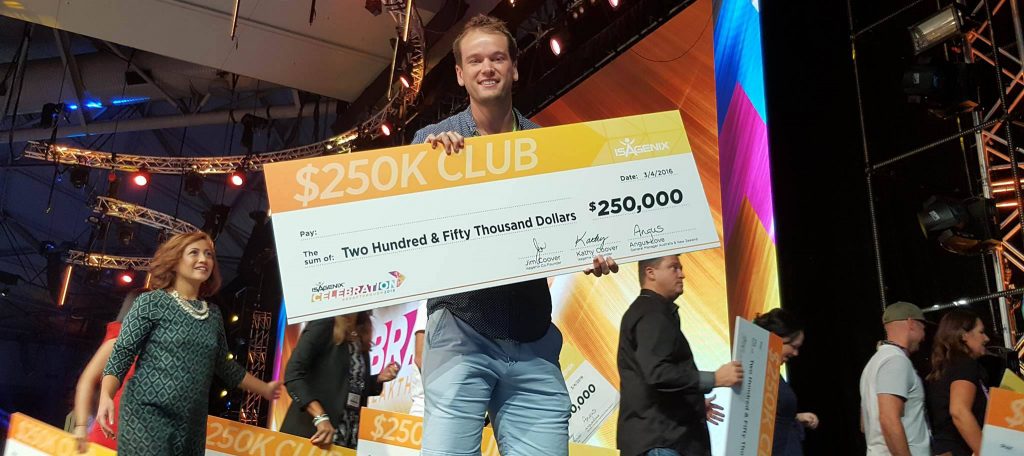 Since joining Isagenix and founding IsaTonic (Australia's and New Zealand's #1 Isagenix website) and Nutritional Cleanse UK, I have enjoyed considerable success in the network marketing industry. Joining a network marketing company such as Isagenix allows me to work from home; setting my own schedule and working without a boss.
See how I went from MLM amateur to a multiple 6 figure income in just 12 months by downloading my free eBook below:
What Exactly is Multi-Level Marketing (MLM)?
Interested in learning more about multi-level marketing? MLM is a remarkable business opportunity that gives you the tools necessary to build a thriving company while putting to use your pre-existing skills and connections.
At its most basic level, multi-level marketing relies on your ability to sell a product or service. In my case, I sell Isagenix Australia and New Zealand nutritional cleansing products. A portion of your sales goes directly into your pocket, and the money rolls in as you turn new clients into repeat customers. There are numerous ways you can earn money in an MLM company. For example, the Isagenix network marketing business has 5 main ways you get paid for sharing a product that really works.
About Network Marketing/MLM and the Advantages of Working from Home
Network Marketing Gives You Freedom – You are your own boss in a multi-level marketing company. Among my team I have stay-at-home mothers (see how Bridget earns an extra $1,000 a week through multi level marketing), university students and established entrepreneurs. MLM from home means you can set your own hours, work as much or as little as you want and plan your life without answering to anyone. I have the freedom to go on holidays when I want, take advantage of great weather or special events, and catch up with old friends and visiting acquaintances. By working when I want, I get to live the life that I've always dreamed of.
There's No Easier Way to Start Your Own Business – Network Marketing in Australia is an unbeatable way to make money. The start-up costs involved with a MLM company are minimal; for an organisation like Isagenix, all it takes is a business starter pack that covers registration and your initial products. The beauty of becoming an independent distributor for a network marketing company is that you benefit from a respected brand (like Isagenix) and avoid the costly legal fees associated with starting a traditional business from scratch. Plus, they supply you with an array of marketing tools and training. It's the best of all possible worlds!
Multi-Level Marketing is the Fastest-Growing Industry in the World – How many industries offer you the opportunity to double your income in just three months like I did? MLM is endorsed by business titans like Warren Buffett, Bill Gates and Robert Kiyosaki. Here's Bill Gates' take on network marketing companies:
You'll Meet Like-Minded Business Partners and Develop Life-Long Friendships – This is without question the biggest benefit of starting a MLM or multi-level marketing company that I didn't anticipate. Network marketing companies often host events that gather thousands of distributors in one place to share strategies, tell stories and develop invaluable business partnerships. I leave these events feeling enthused and energised, and I now count other network marketers as some of my best friends. I've also met 100s of people online that share the same goals as me or who I can bounce ideas off, such as Simon Gilbert who owns Lifestyle Cleanse.
How Can You Get Started?
In order to be successful in your network marketing efforts, you need to consider the following:
Finding the best company
Aligning yourself with the right sponsor
Identifying your warm market
Identifying additional markets
1.) Finding the Best MLM Business
For more information on finding the best MLM business, see these articles: 'How to Choose the Right Company' and '6 Signs You're in the Wrong Network Marketing Company'.
What Are the Top Network Marketing Companies?
There are a near-endless number of network marketing companies around the world offering everything from health products, to skin care, to vacuum cleaners to natural gas. With so many opportunities to choose from, it may help to narrow down the list to some of the most reputable and profitable companies operating today:
Isagenix
Isagenix is a relative newcomer to the world of network marketing. Founded in 2002, Isagenix produces health supplements, weight loss programs, and personal care products. In just a few short years, Isagenix has climbed in popularity and become a leading source of health products around the world. Annual sales exceed $1 billion, and hundreds of thousands of network marketers are building their careers off of this success. I can speak personally to the quality of Isagenix products, as I have enjoyed using them since becoming an Isagenix distributor in January 2014.
Beyond the popularity of the products, Isagenix is a fantastic company to work for because of the support it provides to distributors. I have spent more time developing my Isagenix business, IsaTonic.com.au, than any other business venture; no company has offered more resources and a better network of knowledgeable distributors.
Tupperware
With annual sales exceeding $2.5 billion, Tupperware is a historic network marketing company with a sterling reputation. Founded by the company's namesake, Earl Tupper, Tupperware manufactures a line of products for preparation, storage, and serving in the kitchen and dining room. Its overwhelming popularity stems from the hard work of over 1.5 million network marketers who sell the products directly; Tupperware products cannot be found in any brick-and-mortar store.
Joining a multi level marketing company like Tupperware takes the onus off of the individual distributor, as the high product quality and strong reputation takes care of the majority of marketing. "Tupperware parties" are a cultural phenomenon, and new network marketers will find it easy to quickly turn a profit. Ironically, the company's wild popularity also represents its one downside: with so many already involved with Tupperware, it may be more difficult to carve out a selling niche.
Mary Kay
Mary Kay, like Tupperware, was founded decades ago and has developed into a household name. In 1963, Mary Kay started with just over 300 "beauty consultants" marketing their cosmetics to family and friends. Today, two million consultants around the world distribute Mary Kay, and profits have soared from roughly $200,000 to over $2 billion in 2010.
Mary Kay is a great example of the fact that multi level marketing companies can easily become a leading business in their industry. Few cosmetic brands can match the name recognition of Mary Kay, and this can be credited undoubtedly to the hard work of Mary Kay's independent distributors. Starting your own Mary Kay business could help in fighting the stigmas associated with network marketing; who is going to argue with a well-known company pulling in over $2 billion per year? The clear downside to Mary Kay, however, is its compensation plan doesn't even come close to new-age companies such as Isagenix.
What's the Common Factor?
If you should draw one conclusion from these companies, it's this: join a network marketing company that produces an unbeatable product. In the cases of Tupperware, Mary Kay, and Isagenix, the company's founder has already come up with the "million dollar idea." They've done the hard work, and now you get to jump on board and start your own home-based business. Of course, there's work involved for you as well, but starting a network marketing business where the product seems to sell itself can be a lot of fun. After all, who doesn't enjoy making money?
2.) Aligning Yourself with the Right Sponsor
After you have found the right company to sign up with, you must pick the right sponsor. How do you know if a sponsor is good? One factor to look at is their track record. Have they had success in network marketing? I have a proven track record as a sponsor with over $600,000 in earnings; and I can help you achieve your own success in this exciting industry. For more information see 'How to Get Started in Network Marketing'.
Need help? I am a full time Australian network marketer and can help you reach your potential in this exciting industry. Whether you need advice on the basics (see my recommended list of network marketing books to help you get started), how to build a MLM business online, or how to capture new leads through other means; I am on hand throughout your entire journey. I've helped countless others including Ruth & Kris Tassell, who now find themselves better off financially and with more time freedom for their young family, and Nicole, who owns IsaElite and now enjoys working part-time.
3 and 4.) Identifying Your Warm and Additional Markets
To join and get started, multi-level marketers are encouraged to tap into their 'warm market,' the circle of friends and family who might be interested in purchasing your product and service. Once you've lined up a few satisfied customers, you can then connect with their network to reach more potential clients. Once you've exhausted these markets, you can look at alternatives such as social media, blogging, hosting in-house events and so on. Anyone that joins your network marketing team forms part part of your 'downline,' and a portion of their sales gets paid directly to you. The more aspiring entrepreneurs that join your team, the more your pay cheque increases.
Enjoy Success
The key to network marketing success is your ability to provide support and encouragement to the members of your team. Your ideal situation is when every member of your downline is thriving. If you have a knack for leadership and creating a community in which people work hard, you'll have no problem pulling in over six figures in the multi level marketing industry.
Interested in Joining My Network Marketing Team in Australia or Internationally?
I'm always looking for motivated people to join my Australian and international multi level marketing teams! I love helping new entrepreneurs develop their multi level marketing businesses, and you'll have access to the best training and resources as you start on your network marketing journey. My team and I will help you avoid pitfalls that we experienced and guide you towards a profitable future. Our MLM Australia teams are located throughout the country (including Sydney, Melbourne, Brisbane, Perth, Adelaide, Darwin, Hobart and regional areas of Australia) – you can be connected to a team of like-minded individuals in just a few days.
Ready to join my multi level marketing team or want further information? Call me now!.

Or, fill out the form below and I'll get back to you within 12-24 hours:
My Network Marketing Australia Companies
I often get asked "What are the best MLM companies" or "What are the best network marketing companies?". My answer to this is simple. Find a MLM business that has a great support network, a generous compensation plan and a fantastic product. That's why I chose Isagenix and why it's Australia's #1 MLM company.

My Isagenix website, IsaTonic, supplies nutritional cleansing and weight loss products primarily to the Australian and New Zealand markets. Since founding the company in January 2014, IsaTonic has turned into a very profitable network marketing Australia business. Not only do I endorse the Isagenix products (which I use every day), but I am also a huge fan of the compensation plan, company culture, and rewards (including annual vacations for top sellers – I've already won a free 5-star holiday to both Cambodia and San Diego!)
While MLM companies such as Isagenix have headquarters in the United States, they are all available for easy start-up in network marketing Australia, New Zealand, Canada, Asia and other parts of the world. The products are shipped from the local distribution centre in that country (Sydney and Perth in Australia).
Latest Network Marketing Posts