Starting your own business can be met with a great deal of scepticism. When I founded IsaTonic, many of my close friends and family questioned my decision. Why leave a steady job for an uncertain venture? It turned out to be a huge success, however. Details of my success can be found in my eBook: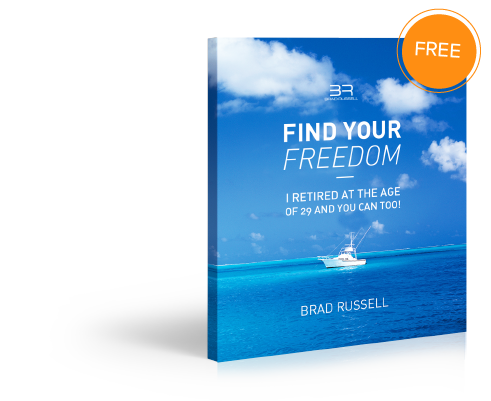 LIMITED TIME OFFER:
DOWNLOAD MY BOOK
Get my free eBook: How to Succeed in Network Marketing
See how I retired from the 9-5 at just 29.
If you're facing criticism from people around you about your decision to start a multi-level marketing business, take solace in the fact that you're in good company. MLM is endorsed by successful businesspeople around the world.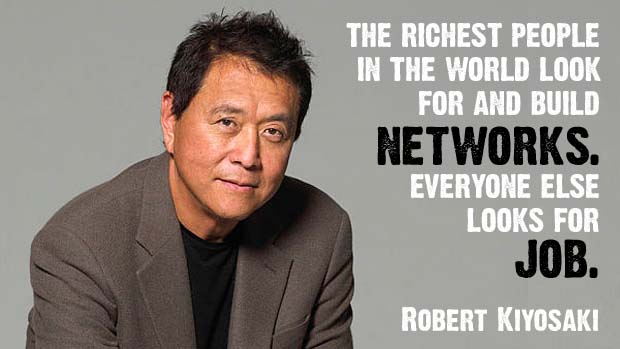 Here are 5 business legends who have gone on the record to support network marketing:
Warren Buffett – With a net worth of over $66 billion, Warren Buffett is one of the richest people in the world. He is the CEO of Berkshire Hathaway and a prominent investor and philanthropist.
With all of his successful investments, you may be surprised that Buffett calls purchasing a network marketing company "the best investment I've ever made." Berkshire Hathaway owns three of the most successful network marketing companies in the world: The Pampered Chef, Kirby (manufacturer of vacuum cleaners sold door-to-door), and World Book (creator of the famous encyclopedia series.)
Robert Kiyosaki – Author of the popular financial literacy book "Rich Dad, Poor Dad," Robert Kiyosaki has demonstrated his commitment to helping ordinary people turn into successful entrepreneurs and business leaders. His net worth of over $80 million makes him a credible source for financial wisdom and business tips.

Robert Kiyosaki has spoken at length on several occasions about the advantages of multi-level marketing. Over 10 years ago, he appeared on The Oprah Winfrey Show to explain why people should join a network marketing organization. Since those first appearances, he's gone on to write a book entitled The Business of the 21st Century, detailing how to build a successful network marketing company. I can't imagine where I'd be if I'd taken Robert Kiyosaki's advice 10 years ago!
Bill Clinton – While not a traditional businessman, Bill Clinton has an unquestionable knowledge of economics and business stemming from his two terms as President of the United States. President Clinton oversaw tremendous economic growth while in the White House and eliminated the federal budget deficit by the time he left office.

In 1997, Bill Clinton endorsed network marketing in his remarks to the Direct Selling Association. President Clinton stated that "You strengthen our country and our economy not just by striving for your own success but by offering opportunity to others… Your industry gives people the chance, after all, to make the most of their own lives and to me that's the heart of the American dream."
Richard Branson – The British businessman and investor Richard Branson has amassed a personal wealth of over $5 billion on the strength of his company, Virgin Group. The Virgin Group includes several famous organizations including Virgin Records, Virgin Mobile, and the Virgin Atlantic airline. Few entrepreneurs have such a strong track record with new and varied business ventures.

One branch of the Virgin Group that often goes unmentioned is Vie at Home, a network marketing company formerly known as Virgin Vie. Vie at Home made over $60 million its first year of existence, proving that you can find immediate success in network marketing.
Now tell me again, who is going to be able to argue with an entrepreneurial genius like Richard Branson?
Donald Trump – Before becoming known for his entry into the American political circuit, Donald Trump was better known for his diverse portfolio of successful businesses. The Trump Organization owns several prominent properties throughout the world, including financial centers, hotels, golf courses, and vineyards. In addition to real estate, the Trump Organization does business in retail, publishing, online travel, model management and many other industries and investments. Altogether, Trump's net worth exceeds $4 billion.
The Donald is known for a successful entertainment career with his television show The Apprentice. With so much experience around the camera, it's no wonder that he's proven a powerful advocate for network marketing. In a famous interview on The Late Show with David Letterman, Trump stated the following:
David Letterman: What would you do if you lost everything and had to start over from scratch?
Donald Trump: I would find a good network marketing company and get to work.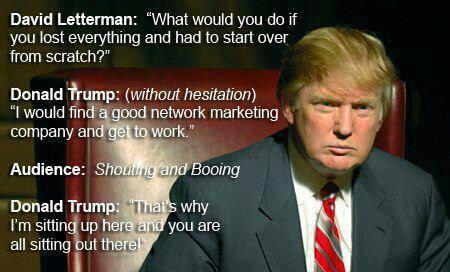 Trump has dabbled in more industries than perhaps anyone on this list. Even with all of his business exploits, Donald Trump argues without hesitation that network marketing is the fastest way to create a successful business and build wealth.
Network Marketing is the Business of the 21st Century!
Keep in mind, these are only some of the most successful entrepreneurs who have gone on the record endorsing multi-level marketing! Countless millionaires can credit their success and wealth to involvement in a network marketing company. Take the advice of these entrepreneurial legends and start your own business. In a few years I may be quoting you on this blog.