Friday, Apr 15, 2016
The story of how I retired from a 9-to-5 job at the age of 29 catches the attention of almost everyone I speak to. Escaping the daily grind of an office job is a pretty common dream, and I'm living proof that it's possible. However, there is a common concern that I hear from those considering the self-employment route:
How did you give up the security of your day job for self-employment?
Of course, there is some risk involved with leaving a steady job. The best way to protect yourself financially and set yourself up for growth is to secure multiple income streams. By making sure that you have an influx of cash from several sources, you have a built-in safety net on the off chance that one of those streams runs dry. And when things are going well, you can invest the earnings from one of your sources into other ventures. This consistent diversification is a great way to exponentially increase financial growth.
Here's How I Make Sure My Income is Secure:
Network Marketing
Since leaving my day job, network marketing (multi-level marketing) has become my bread and butter. I love the flexibility of companies like Isagenix, and I thrive on the immediate rewards you get from hard work in the network marketing industry. On top of a generous compensation system, I've had the opportunity to go on multiple all-expenses paid vacations through Isagenix including Mexico, Cambodia and San Diego. A steady income and free travel – what more could you want?
Here's a cheque I was presented with recently onstage at the annual Isagenix conference in Brisbane (I'm on the left). This was awarded for my cumulative earnings in Isagenix since I joined 2 years ago. Within a few months I'll be in the $500K club!
Affiliate Links
If you've been reading my blog recently, you may have noticed some links embedded in a couple articles such as Network Marketing Books I Recommend and 8 Products I Can't Live Without. Not only did those posts give me the opportunity to advocate for products that I truly believe in, they set up an additional revenue source through Amazon's affiliate marketing program. By promoting specific products to my followers, I earn a small commission every time a visitor clicks through and purchases from my embedded link. It takes just a few minutes to set up and the rewards come in immediately.
Ad Revenue Sharing
I'll be posting more about this in the coming weeks, but this is one of the best opportunities I've found to make your money work for you. Through companies like My Trending Ads and Traffic Wave Surfing, you can earn up to $250USD per day (on each site) just by watching a few brief advertisements. Of course, you have to invest money to earn through this system; once you've saved up enough seed money, you'll be blown away by how quickly you'll double or even triple your initial investment!
Here's my earnings from yesterday alone (in USD):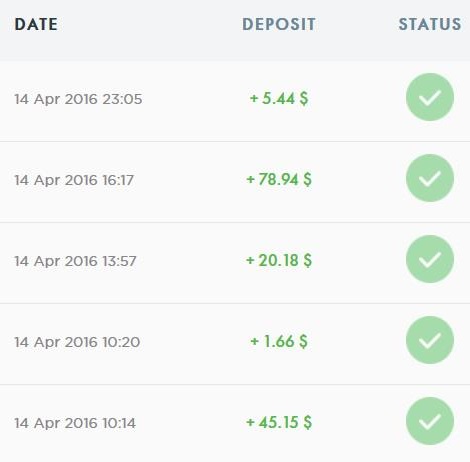 If you're interested in learning more about this opportunity please contact me.
Outside Investments
The lifestyle of the self-employed entrepreneur naturally attracts like-minded people. And when a few entrepreneurs get together, the ideas start flying faster that you can keep track of them! Just through a few of my close professional friendships, I've had the opportunity to invest in ventures from restaurants to app development. I'm always looking for opportunities to diversify my portfolio; you should be too!