I love Thailand. I've been many times and I'll go again in the future. Whether it's for its famous nightlife, it's great food, the friendly Baht-to-Dollar ratio or the exceptional weather – Thailand is a holiday destination I just can't get enough of.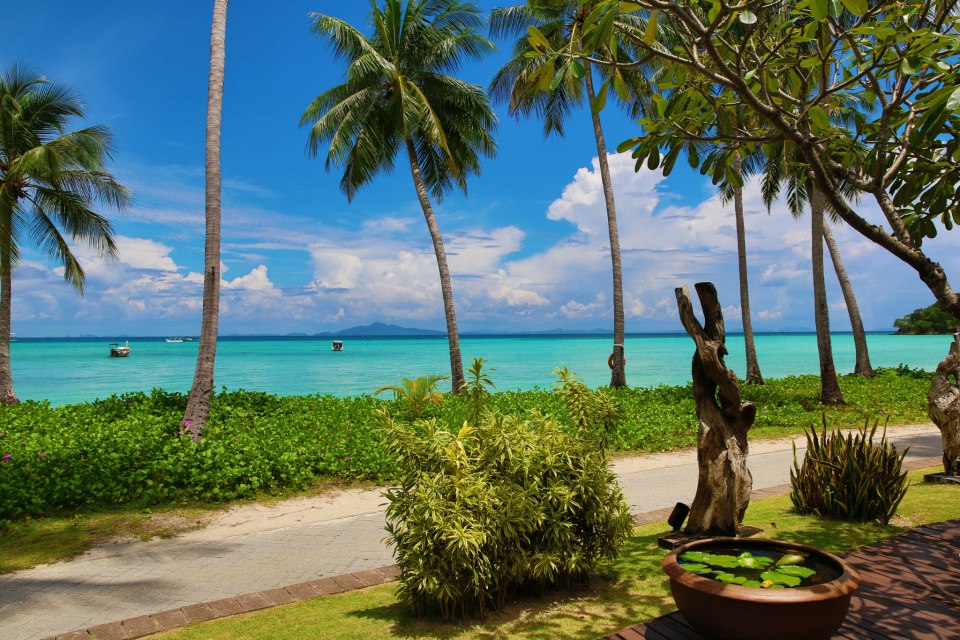 As of late 2012, I've been to Thailand about 6 or 7 times (I lost count after the third!). The first 2 were purely for holidays with friends when I was young and definitely had the travel bug in me. The next 3 or 4 were primarily to visit my dad as he worked in Bangkok for an engineering firm and this trip was with extended family. Bangkok is absolutely crazy, but I won't go in to detail in this review. I will say one thing though, if you get a chance to visit Thailand's capital and spend a few nights there, take it up. It's a city buzzing with action. Any more than a few days though and it can get a little tiresome.
So without further ado, here's my latest Thailand holiday review.
First Stop – Phuket!
We flew in directly from Perth to Phuket. The flight was pleasant enough, however I was a little disappointed that Virgin Australia don't offer any kind of in-flight entertainment or complimentary food and beverages. I was under the impression that they were somewhat in between Qantas and Jetstar, but alas they got us to our destination safe and sound.
Our Amazing Villa on the Hills of Patong Beach
My first recommendation is if you are travelling with a group of more than 4, rent a villa. We rented this amazing villa situated on the hill overlooking Patong Beach. It comfortably sleeps 10 (we had a party of 8) so if you split the costs between the various parties, it's not much more than a nice hotel. Plus – we got two maids who did all the cooking, cleaning and washing up! You can't beat that! (The Thai food they cooked was amazing. We only had to pay the cost price of the ingredients and they prepared and cooked the food themselves)
The amazing view we had of Patong beach and the entire bay: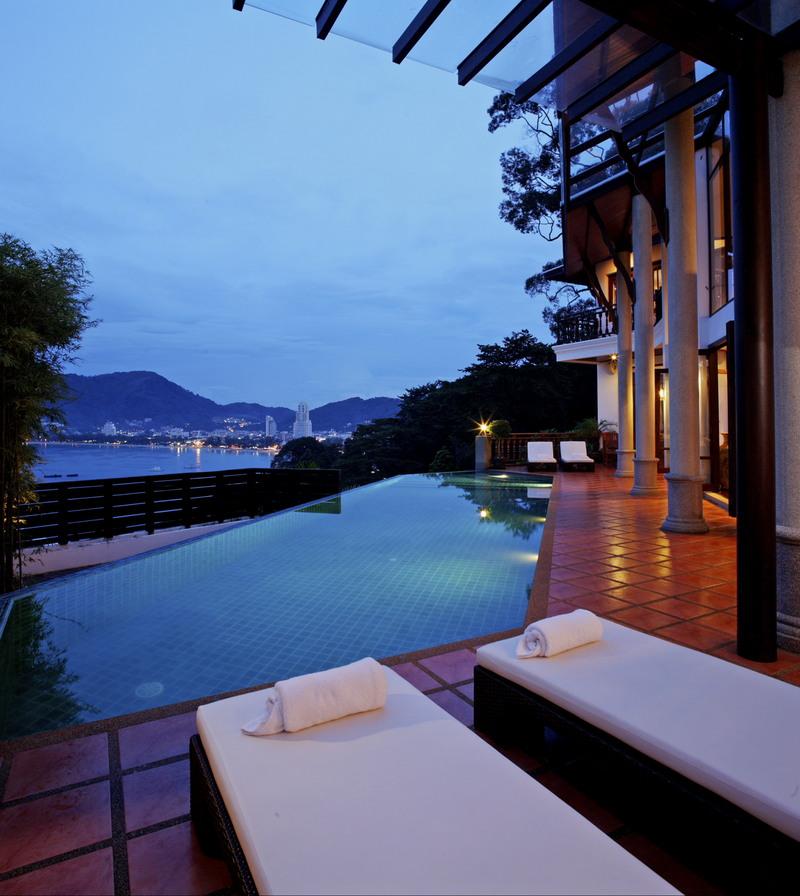 Bangla Road – The Centre of Phuket Nightlife
Bangla Road is famous for its nightlife, ladyboys, ping pong shows, street workers and hustlers. Don't let that scare you off though – it's a must-visit when you go to Phuket.
We ventured in to Bangla Road on a Saturday night, and boy was it bursting with action! We saw the good and bad side of Thailand all in a few hours. I've come to expect this from Thailand, and I was well aware of what was ahead. However, I was with my girlfriend and her parents and they were caught off-guard somewhat. After the 10th time we got asked to "Come see ping pong" and seeing mature aged men with much younger women, they were a bit over it. I highly recommend you visit it though. You don't have to participate in such activities, just grab a beer from one of the many bars lining the road and watch it all happen.
Go Karts, The Beach, Shopping and Massages
All of these are staples when visiting Phuket in my opinion (yes, even go karts). You can pretty much do all of these in a day, but spread them out over a couple and you'll enjoy your time even more. I'm not much of a shopaholic, but it doesn't hurt to have a quick look and pretend you are interested in the latest gizmo, only to turn down the seller at the last instant.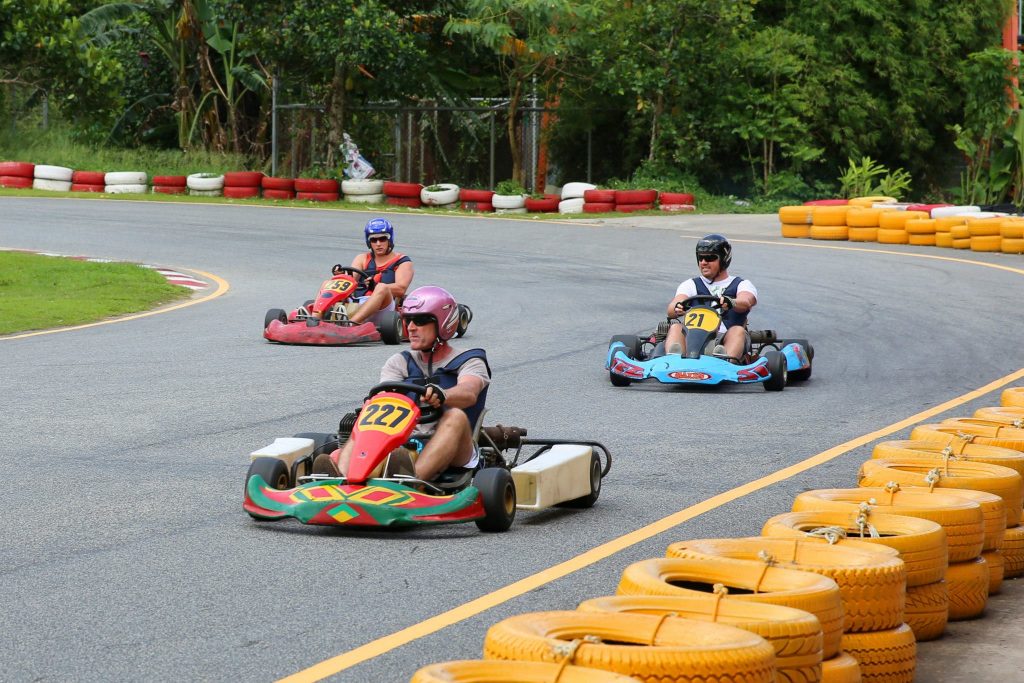 Tip: Whilst a massage is a massage pretty much wherever you go in Thailand, I also got one in Krabi later on the trip and paid half price compared to that in Phuket. Still, we're only talking about $12 versus $6 here.
Next Stop – Phi Phi Island!
Getting to Phi Phi Island from Phuket is easy. Just hire a speed boat and you'll be there in around 1 hour (trust me, you don't want to go on the ferry if it's rough). From memory this cost around 12,000 Baht for the 8 of us to hire a private speed boat, so that works out to be around $50 each. Not cheap by Thai standards, but the journey is pretty enjoyable anyway.
Phi Phi Island Village Beach Resort & Spa
Our speed boat took us directly to our hotel on the beach – The Phi Phi Island Village Beach Resort & Spa. On first impression, this place was pretty amazing! However, having stayed there for 3 nights, there were some positives and negatives:
Positives:
The beach – it's right there, on your door step
The pool – it was big, clean, literally metres from the beach and had a swim-up bar. What more could you want?
The accommodation – it was fairly standard, bungalow style but nice enough. Especially when you're staying in such a great part of the world.
Negatives:
The pool staff – On several occasions we ordered drinks and food from the pool bar. The staff were rude, mocked us behind our back and purposely ignored us.
The location – Whilst the location was tranquil and had a great beach, we had to walk over 1 hour to get to the main part of the island (or 25 mins by boat). This was both a positive and a negative.
The hotel restaurants – We walked into one steakhouse and promptly left as the meals were approximately $50 Australian per person. If you walk 200m up the road to the local village, you'll find awesome seafood for less than $5 per person.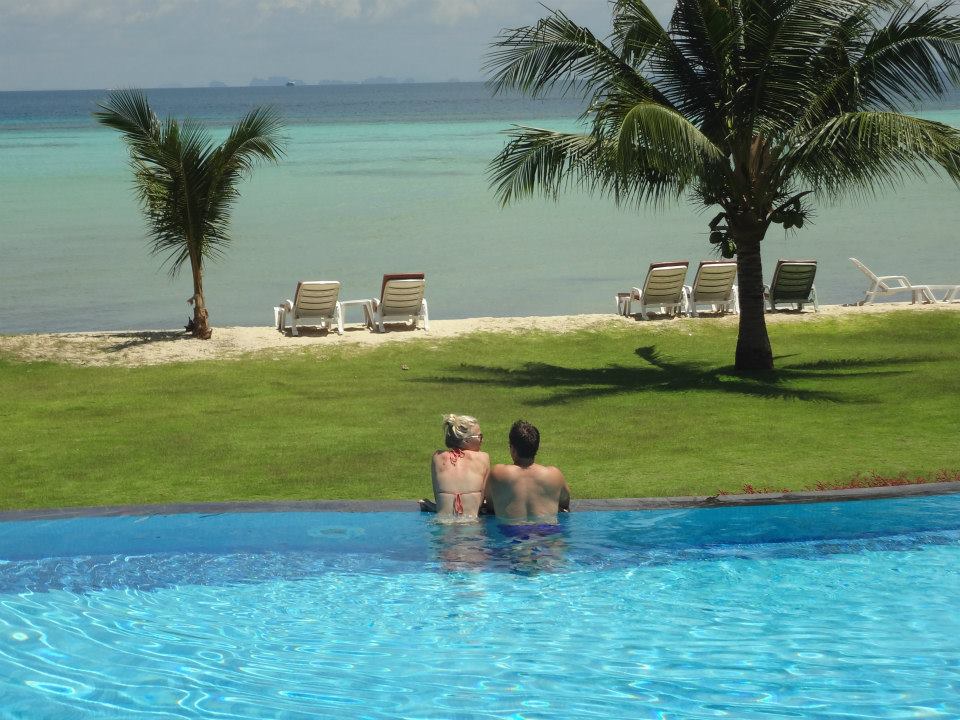 Day Trip to Maya Bay
If you're not familiar with Maya Bay – it's the movie where they filmed "The Beach" (starring Leonardo Dicaprio). We organised a day trip to and from the bay; stopping at monkey bay on the way back and another beach for a quick lunch. If you haven't been to Phi Phi Island, I thoroughly recommend doing this (in fact, it's almost a crime if you don't!). Probably the highlight of the day was seeing the monkeys clammering over the steep cliff faces to get to the bananas we were throwing at them. Some of them could catch better than I can!
Our Final Destination: Krabi
Previously, I had only visited for Krabi for one night as part of a stopover. On this occasion I wanted to see what it really had to offer.
Sala Talay Resort: Highly Recommended!
We stayed at the Sala Talay Resort for 3 nights. This hotel was awesome! For around $150 Australian a night you can get a deluxe poolside room. When I say poolside, I mean poolside. You can literally walk off your balcony into the pool (and swim up to the bar of course).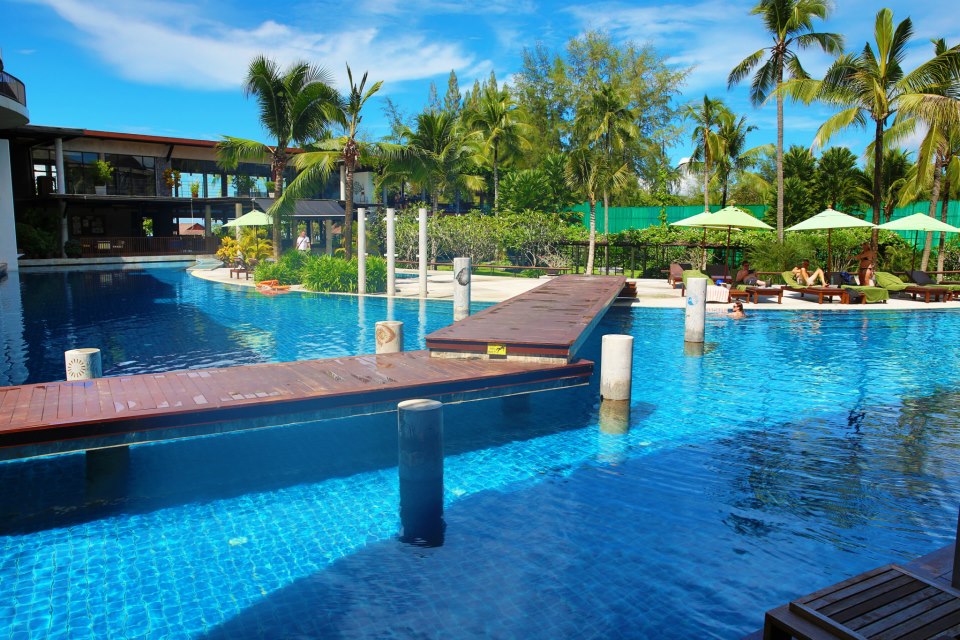 Krabi was a pleasant surprise. I'd describe it as a mix between the busy hawker/night-life or Phuket and the tranquil surrounds of Phi Phi Island. A big plus was that it was significantly cheaper than Phi Phi. Being on the mainland, Krabi is the kind of the place that you can hire a scooter and venture off for a whole day. We did just that, at a cost of 200 Baht (approx $7).
Overall, Thailand is a place that I will definitely be visiting in the future. If you're comparing it to a place like Bali, it's cleaner, much better food, better scenery, more to do and a lot more enjoyable. I'd thoroughly recommend it.
Love to travel? Check out the Places Where I'd Rather Be (A collection of images from my favourite destinations worldwide)