Creating a new blog can be a daunting task for those just starting out on the Internet or taking their first steps in to the world of blogging. This simple, step-by-step guide is designed to run through the various stages of creating a WordPress blog from start to finish. By the end, you'll have a SEO-optimised blog that you can call your very own.
Starting your own blog is not expensive and doesn't require a wealth of technical skills. However, if you have any questions about the process below, feel free to contact me and I'll get back to you. I'm happy to help out.
Registering Your New Domain:
To start your own blog, you'll need a unique domain name. Many opt for their personal name (as I have done), but you can choose whatever name you prefer.
You'll want to check if your preferred domain is available. I prefer using Crazy Domains for this – they offer a user friendly website and their prices are very competitive. Simply go to their homepage, type in the URL you are interested in and click Search. You can do this by clicking the banner below:
If you domain is available, you'll be able to register it. Add your preferred domain(s) to your cart and proceed through checkout.
If you are setting up and Australian blog, I prefer to use a .com.au URL rather than a .com URL. N.B. if you are registering an Australian domain (.com.au or .net.au) you'll need an ABN first. 
Choosing a Web Host:
There's plenty of reputable web hosting services out there – and plenty of not so reputable ones, so choosing the right web host is crucial. I prefer to use BlueHost because they are relatively cost effective, recommended by WordPress themselves and offer a host of features. Above all, they're well known and highly reputable in the web hosting market. GoDaddy is another popular web hosting company, but upon looking at a number of reviews I went with BlueHost.
Sign up for an account at BlueHost.com. You can do this by clicking the banner below:
To enable web hosting on BlueHost, you'll need to point your domain's name servers to BlueHost. Login to Domain Name Manager in Crazy Domains.
In the left column, click on Manage Domains
Click on your domain name
Click on Update Name Servers
Delete the two existing name server records that point to Crazy Domains
In the Name Server 1 textbox, enter "ns1.bluehost.com". In the Name Server 2 textbox, enter "ns2.bluehost.com".
Click on Add Name Server to save the two records
Back in your BlueHost account, go to cPanel -> Addon Domains
In step 1 – select 'Use a domain that is not already associated with your account' and enter your domain name in the form of 'myblogname.com.au'
Step 2 is automatically filled out for you. If you entered your details correctly in step 7 above, you'll get a message verifying ownership.
In step 3 – choose 'Addon Domain'
In step 4 – choose 'Create a New Directory'. Enter the path of your directory in the format of 'public_html/myblognamecomau'.
Click Add Domain. Your domain is assigned to your BlueHost account.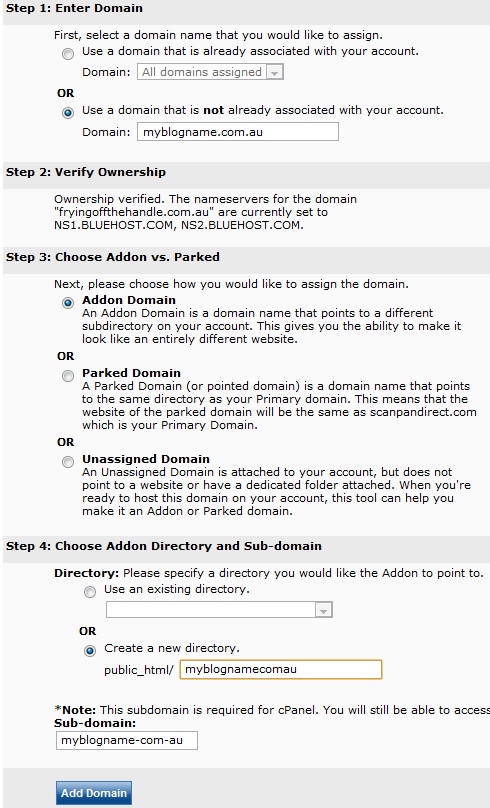 Choosing and Installing a WordPress Theme:
Choosing a great WordPress theme is critical. There's thousands of WordPress themes out there, but you'll want to choose one that matches your needs in terms of design, functionality and budget.
The best themes under $100 from a SEO point-of-view are Genesis and Thesis. Both of these have rave reviews from a huge number of bloggers worldwide.
I chose to go with a free theme because, with the addition of a few free plug-ins, you can create a blog that's just as good. And hey, who doesn't like free stuff? There's a number of free themes available from the WordPress website – but I'll run you through the options available directly through the BlueHost interface.
In your BlueHost cPanel, click on 'WordPress One-click Install'
Click on Install
Select the most recent version of WordPress, the URL where you'd like WordPress installed, untick the Plugins and Themes options and click Complete
Your login details for your new site will be emailed to you, but you'll want to keep a copy of them somewhere safe for future reference
Login to your WordPress dashboard by going to http://www.myblogname.com.au/wp-login.php
Go to Appearance -> Themes
Near the top of the screen, click on Install Themes
Using the various search criteria, search for a theme that will suit your needs.
Once you've found a theme you like, click on Install
Click Activate. You can now check your theme has been successfully installed by going to entering your blog's URL in your browser.
Installing Yoast's SEO Plug-In:
Yoast's WordPress SEO Plug-in is the most popular plug-in available for SEO on the WordPress platform. It has a host of features including custom page titles and meta descriptions, robots.txt and htaccess configuration, canonical links, breadcrumbs, XML sitemaps and much more.
In your WordPress dashboard, go to Plugins -> Add New
Search for 'Yoast'
Find 'WordPress SEO by Yoast' and click Install
Once it has installed click Activate Plugin
In the left hand menu, click on SEO
You can now set up your blog with your own custom SEO/display settings. I suggest you have a quick look through Yoast's guide to his SEO plug-in to cover the basics.
Success – Your Own SEO Optimised WordPress Blog!
You've now created your very own, SEO-optimised blog for next to no cost! You can now start posting, adding pages, importing images and a whole lot more.
For more information on how to set up a WordPress blog this post from Michael Hyatt is a great read.