We Made the Switch
When we first launched Buji Tea, we choose a custom WordPress install with WooCommerce. At first, we loved it. It was totally custom, highly optimised for SEO and had a lot of customer features. But the further we got into this project, the more we came to realise how cumbersome it was. There had to be an easier way. We did a lot of research and after reading Shopify reviews by 1000s of happy customers, we were sold.


Shopify Immediately Stood Out
A lot of our competitors selling weight loss teatox systems used Shopify. We investigated further. Why did they all use the same system? Didn't they want to differentiate themselves? After reading a number of Shopify reviews we made the switch from WordPress to Shopify.
What We Love About Shopify – My Own Shopify Review
It's cheap. From just $29 a month, it's affordable for businesses of all sizes. That includes your entire ecommerce platform, inventory tracking, shopping cart, analytics, mobile site and many other features.
It's VERY simple to use. One of the biggest hurdles in switching over initially was we thought it would take some time. After literally 24 hours, we were up and running. The backend is easy to navigate, the plugins are easy to integrate, reports are easy to create—the list just goes on.
The themes are amazing. We love the theme we are using. It's clean, crisp, modern and looks great on all types of devices (see image below).
There's a wealth of customer data. We love our data and reports. With Shopify, they are easy to view and export. This makes our day to day business decisions a lot easier.
Ability to create discount codes in seconds. Quite often, we have flash sales where we offer anywhere from 5-20% off our products, free shipping etc. With Shopify, you can create these discount codes instantly.
Easy to accept online payments. You can accept credit card, PayPal and others at the click of a button. No more messy merchant setups!

An Example from Buji Tea
Here's an example of how clean our website looks. This was taken from our Sunrise Detox System Bestie Pack. This page was created in a matter of minutes.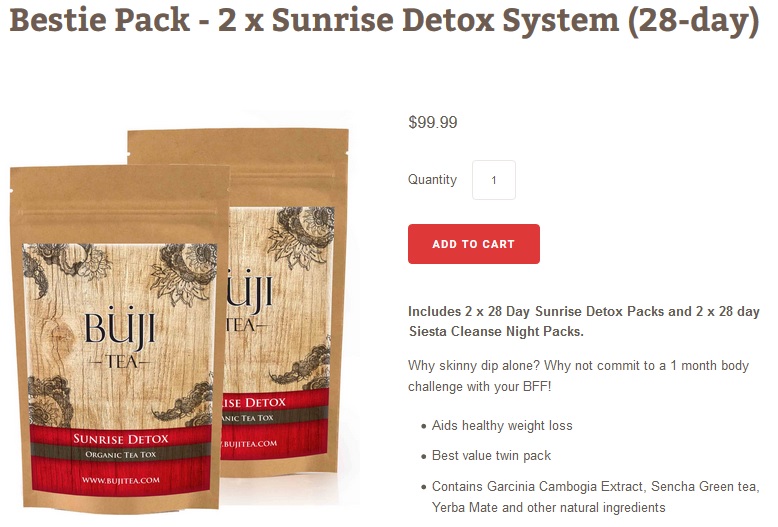 Interested in Shopify?
I can't recommend Shopify highly enough. To sign up for Shopify (or just have a look around their site) click on the banner below.