Wednesday, Jun 20, 12
I'm Now in the Top 200 at SEOmoz!
I'm a proud member of the SEOmoz community. In my opinion – it's the best resource on the internet for anything SEO related. SEOs and ecommerce managers can interact and get fast solutions to complex (and not so complex) questions.
This week, I have entered the top 200 in SEOmoz's Top Ranked Members list. I'm pretty proud of this, considering some of the big names on the list (Danny Dover, Brent Payne, Danny Sullivan, Ross Hudgens and many more). Hey, even the great Yoast is a few spots behind me!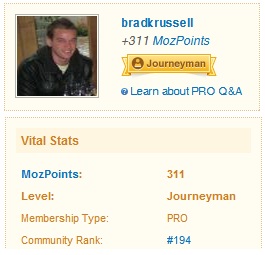 Next stop, the top 100!